A & J Quality Butchers,
Unit 5 6A Middle River Industrial Estate,
Douglas, Isle of Man,
IM2 1AL
Do you hanker for a return to the halcyon days of your childhood?
As little as 20 years ago, staying local to shop was really the only option and no doubt if offered an alternative, you or your parents or grandparents would not have taken it.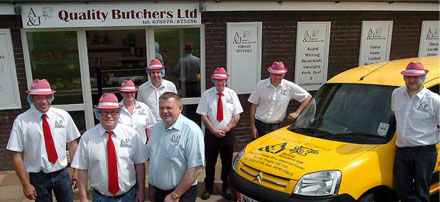 In Douglas is a new local butchers, with all the traditional values you will remember. A&J Quality Butchers recently opened its doors to a fully refurbished butchers in Anagh Coar.
Operating as a butcher for the past two years at their premises in Middle River Industrial Estate, and following an overwhelming increase in demand for their quality meats, they made the decision to look for additional premises.
The Anagh Coar premises was considered an ideal location, in an excellent position, where people were used to seeing a butchers previously.
Co–owners Andy Gibbs and John O'Connell come with real pedigree and experience as well. Andy has been joint owner of Jaks Bar & Steak house for more than 20 years and his experience in the demands of the restaurant trade have been instrumental in the concept. John has been a master butcher for more than 30 years, in Ireland, the UK and locally for the past 20 years.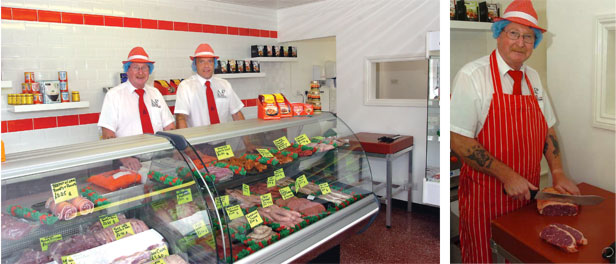 Andy said: 'We started our original butchery premises in order to get consistency of quality for Jaks in Douglas. With 20 years of restaurant experience I understand how difficult it can be to obtain properly aged meat – since starting it became apparent that the feeling was mutual with many other businesses and we have grown rapidly from there.'
A&J Quality Butchers provide an old fashioned traditional family butchery, with a modern edge.
It's aim is to provide Manx meats wherever possible, and strive to keep below supermarket prices, providing quality, guaranteed aged meats.
They also offer home–made meat pies and a range of marinades and sauces to enhance and accompany your family meals. Staff will offer advice on the best cuts to use for your meals and even how to cook your meat in order to get the best flavours out of it. Also available is a home meat–ordering service.
It has not taken a long time for A&J Quality Butchers to enlist many of the island's well–known hotels, pubs and restaurants with the quality they required.
A&J Quality Butchers, whose slogan is 'The well hung meat people', provide quality products and with it a truly personal service that many establishments lack